STEM Enrichment, Engagement, & Outreach Fund
The STEM Transformation Institute is a multidisciplinary collaboration across the Colleges of Arts, Sciences & Education, and Engineering & Computing, for the research and development of effective Discipline Based Education Research (DBER) practices that lead to substantial increases in the number of well-prepared STEM professionals, including teachers, graduating from FIU.
The STEM Institute capitalizes on the unique skills our diverse student population brings to their learning and ultimately the workforce. The Institute is FIU's response to national calls for 100,000 new STEM teachers and an additional 1,000,000 STEM professionals over the next 10 years; hence, our vision that the Institute serve as a living laboratory that disseminates practices, policies, and STEM professionals across the nation.
Undertaking this challenge requires partnering with local K-12 schools, colleges, businesses and industry, foundations, and national education leaders in order to create an educational landscape that supports all students coming through multiple pathways, and leading to a productive workforce.
ACTIVE LEARNING CLASSROMS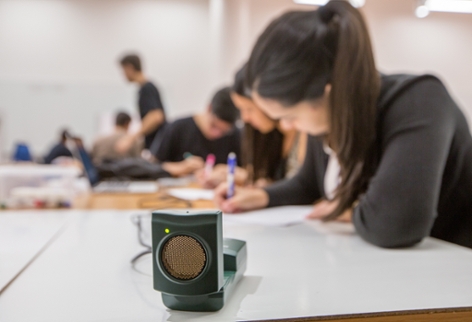 FIU has 13 state-of-the-art classrooms recently built and designed to house active learning at a financially sustainable scale. Currently, 104 sections of STEM courses are taught in these classrooms serving more than 5000 students. All these classes require faculty to commit to active learning — putting down the textbooks and tackling scientific challenges with hands-on approaches. These classrooms represent one way the STEM Transformation Institute is committed to expanding the reach of our active learning goals while supporting   the National Science Foundation, Howard Hughes Medical Institute and National Math and Science Initiative projects that are housed within the institute.
LEARNING ASSISTANT PROGRAM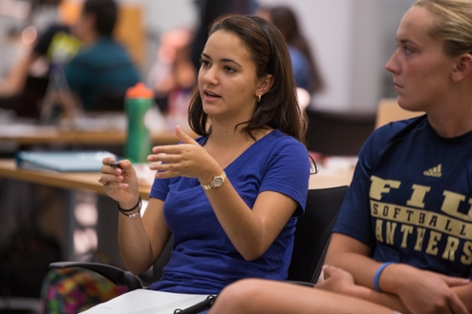 The Learning Assistant (LA) Program was pioneered at FIU in the Physics Department through the FIU PhysTEC project. PhysTEC is a joint effort at improving teacher preparation that is facilitated by three of the most prominent national physics societies, the American Physical Society (APS), American Institute of Physics (AIP), and American Association of Physics Teachers (AAPT). Since then, the program has grown to be the largest LA program in the nation and has serviced 9 different departments across FIU. In Fall 2015, the Provost announced a university wide initiative and positioned the LA Program to play a vital role in the transformation of undergraduate STEM courses. In Spring 2017, about 330 LAs worked in 9 departments and impacted over 10,000 student enrollments.  The LA Program originated at the University of Colorado in Boulder and the FIU LA Program is an active participant with the LA Alliance.
Quick Facts
Learning Assistants (LAs) are undergraduates from any major interested in teaching.
The LA program is a recruitment path for teaching certification.
Total of 327 Learning Assistants support 155 different sections of courses.
13,902 students are in LA-supported courses.
LAs also provide support for FIU's Mastery Math Lab, designed to improve college algebra pass rates.
LAs are drivers of change through their engagement with faculty — must be active learning classroom to merit integration of LAs.
Significant impact on production and retention of STEM professionals.
FIUTEACH
The FIUteach program is part of the National Math and Science Institute's UTeach program, a nationwide secondary STEM teacher preparation initiative which aims to place more than 9,000 new math and science teachers in classrooms across the country by 2020. The program enables STEM students to earn both a degree in their major and a teaching certification without adding time or expense to their four-year degree program.
MODELING INSTRUCTION
Research indicates that attitudinal shifts in introductory physics are nearly uniformly negative (i.e. students like physics less after taking a physics course). However, with the implementation of active learning and Modeling Instruction courses at FIU, data shows positive shifts across multiple instructors and multiple sections. One of the key factors for these results is that Modeling Instruction classes have shown to have conceptual learning gains twice as big as those found in traditional lecture instruction. This means that students are learning more and are enjoying learning more after a Modeling Instruction class. Also, Modeling Instruction classes have higher pass rates than traditional lecture instruction classes.
How to Give
Recurring Biweekly Payroll Deductions – Your Gift Amount will be deducted continuously. (i.e., $1.92 = $1.92 per pay period until you request a change)
One Payment Payroll Deduction – Your Gift Amount will be deducted from one pay check only. (i.e., $100 = $ 100 from one pay period)
Give Through Payroll