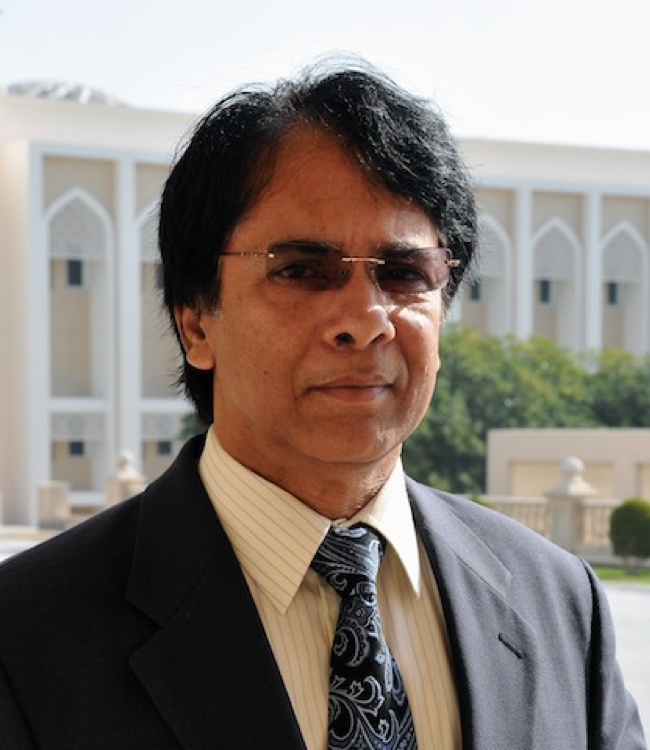 When Dr. Sen joined FIU in 1984, he was able to establish a top of the line analytical and experimental petrology laboratory in the young Geology department. Gautam quickly obtained National Science Foundation (NSF) funding to support his research and was among the first FIU scientists to do so. Gautam's success, along with others in the department, resulted in Geology being granted the first FIU doctoral program in the physical sciences in 1994.
In subsequent years, he mentored many graduate and undergraduate students who did important work in petrology. He was a trusted mentor to his students, and a generous friend to his colleagues. In the early days of FIU's doctoral science programs, Gautam initiated and led the Presidential Distinguished Lecture Series which brought numerous distinguished scholars, including Nobel Laureates, to the university and greatly enhanced FIU's visibility and reputation.
In 2001, Gautam founded the Florida Center for Analytical Electron Microscopy (FCAEM) which he built from NSF-funding and which he continued to direct until 2007. Gautam won many (4) awards from FIU and was made a Life Fellow of the Geological Society of India.
In recognition of Dr. Gautam Sen's many achievements and the profound impact he had at FIU, his colleague and friend Dr. Florentin Maurrasse, Professor in the Department of Earth and Environment, is instituting two recurring FIU awards: A "Gautam Sen Award in Petrology" in the amount of US$ 500 starting Spring 2020, and a "Gautam Sen Graduation Award" in the amount of US$ 500 to be given in alternate years for Spring/ Fall graduation starting in 2019—each in Geology to stimulate excellence among FIU undergraduates. By giving to this endowment you continue the legacy Dr. Sen has solidified on our campus, you will contribute to scholarships directly impacting the many lives of the students following in his footsteps, as they break barriers and advance their field. 
"As many accomplishments as Gautam had, his biggest success was life. He loved people and embraced the sheer joy of life's journey. He was generous, good-natured to students, colleagues and his many friends outside the geological world. While he left us too soon, his was a life lived to the full."
How to Give
Recurring Biweekly Payroll Deductions – Your Gift Amount will be deducted continuously. (i.e., $1.92 = $1.92 per pay period until you request a change)
One Payment Payroll Deduction – Your Gift Amount will be deducted from one pay check only. (i.e., $100 = $ 100 from one pay period)
Give Through Payroll