Dr. Joseph J. West Memorial Scholarship Endowment
Joseph J. West, Ph.D. (August 13, 1944 – January 10, 2019) was an educator, leader, mentor and creator who impacted so many throughout his life and career.
Dr. West began his career in the Navy where he dedicated 22 years, proudly rising from Seaman Recruit to Lieutenant Commander. During Vietnam, he served two tours in country as a Corpsman for the United States Marines and served one tour on ship, stationed offshore of Vietnam. During his time in the Navy Dr. West earned his Bachelor of Science Degree in Hospitality Management from Cornell University and his Master of Science in Systems' Management from the University of Southern California.
After the Navy, Dr. West managed numerous restaurants, but soon realized that teaching was his true passion. In 1988, he graduated with a Ph.D. from Virginia Tech University and went on to join Florida State University as facility and then Chairman of the Department Hospitality Administration.
While at Florida State University Dr. West was instrumental in founding and developing the University Center Club in partnership with Club Corporation of America and the Seminole Boosters. During his eight years of leadership, the Department of Hospitality Administration received the largest cash gift ever made to Florida State University at that time and raised over $20 million.
After FSU, Dr. West served for ten years as Dean, School of Hospitality and Tourism Management, and one year as Vice Provost, Biscayne Bay Campus of Florida International University. During his tenure as dean he co-founded the South Beach Wine and Food Festival and established a satellite campus in Tianjin, Peoples Republic of China – the first United States University to do so – which currently has an enrollment of over 1200 students. His entrepreneurial initiatives brought over $24 million to the school.
In retirement Dr. West moved to Everglades City, FL with his wife Liz but he could not relinquish his commitment to teaching and supporting others. He joined the faculty of Miami- Dade College in 2012 and continued to teach and develop Work Force Training classes until August 2018. He also volunteered in his local community, serving as President of the Lion's Club and leading volunteer efforts after Hurricane Irma.
Dr. West was especially proud of his children: Wanda Hamilton, Joseph J. West Jr., Mary Beth Hamilton and Travis West. He also has eight grandchildren, with another on the way, and two great-grandchildren.
Dr. West's memory will live on in every student he taught, every colleague he mentored and every person he inspired with his big ideas. Truly a man among men.
 When you give to the Dr. Joseph J. West Memorial Scholarship endowment, you are joining the Wests in their commitment to higher education. The intent of the scholarship is to provide Chaplin School of Hospitality & Tourism Management students an opportunity to further their education and achieve success in their hospitality profession. Donations made to the endowment fund will be matched dollar-for-dollar up to $12,500 thanks to the generosity of Mr. Burt Cabañas '76, founder and Chairman of Benchmark who served as Chairman of the School's Industry Advisory Board during Dr. West's tenure.
Join us in making a difference in our outstanding students' lives.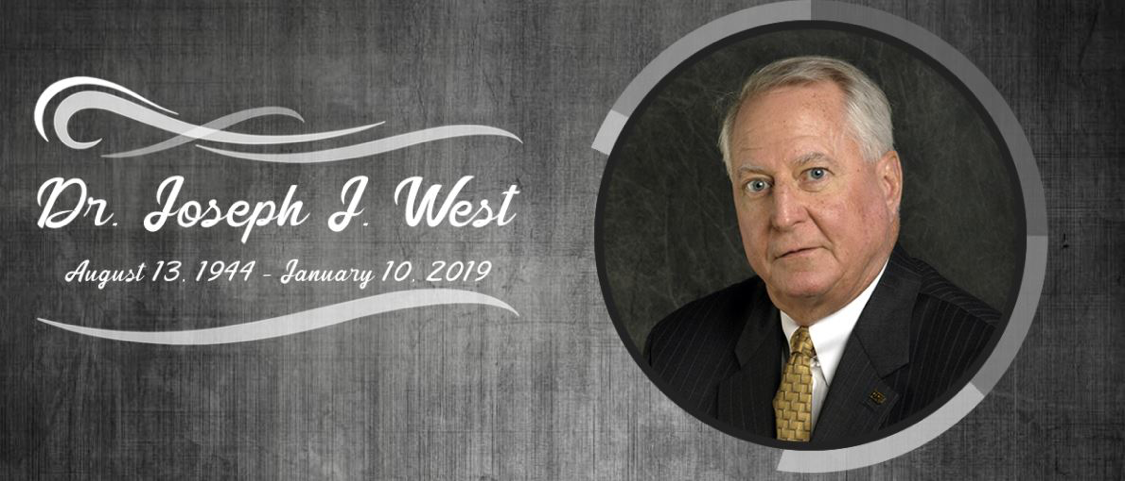 How to Give
Recurring Biweekly Payroll Deductions – Your Gift Amount will be deducted continuously. (i.e., $1.92 = $1.92 per pay period until you request a change)
One Payment Payroll Deduction – Your Gift Amount will be deducted from one pay check only. (i.e., $100 = $ 100 from one pay period)
Give Through Payroll